About Us
We are a healthcare service that offers innovative and high-quality physiotherapy treatments. Our goal is to improve healthcare in Nigeria by partnering with highly skilled physiotherapists.
Musculoskeletal disorders may cause pain and stiffness in the joints and muscles. World Health Organization (WHO) reports that these conditions are the leading cause of global disability and that they're prevalent across the human lifespan. In the modern environment, musculoskeletal disorders can be very disruptive. They can lead to early retirement, affect productivity and cause depression. In addition, they are costly to treat and manage. Through our digital health solutions, we bring physiotherapy to the comfort of your home in an innovative and cost-effective manner.
Our physiotherapy service is a great way to connect with physiotherapists to get the care you need. You can book an appointment online, and we'll help you diagnose your pain and design a therapy plan that's right for you.
You will receive a customized exercise programme based on your own needs. We will give you the best advice for your goals and limitations. You will receive information about how to do the exercises, how many sets and reps you should do, and how intensively you should work out. This is based on evidence-based recommendations from your physiotherapist.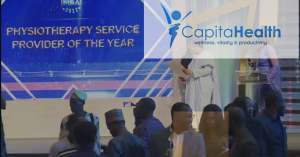 We are dedicated to providing the best care for your physiotherapy needs. With our team of experts, we manage your pain and help you improve your movement, as well as your quality of life. We are honoured to have been nominated for the Nigerian Healthcare Excellence Award for 2022. Although we only provide telehealth and home-visit physiotherapy services, we were chosen as a finalist for the best physiotherapy provider in the country. This is because we commit ourselves to delivering excellent therapy care.
As part of our commitment to serve you better in the years ahead, we are reaffirming our commitment to advance therapy service
Our mission
Our mission at CapitaHealth is to improve the quality of life of Africans suffering from musculoskeletal disorders by facilitating and optimizing their recovery through empowerment and self-management with the support of physiotherapists and technology.
Our Vision
We envision a world where Africans will have access to quality musculoskeletal health services at affordable prices irrespective of geographical locations.
Partnership
We are looking for authentic, energetic, and passionate partners and champions to collaborate with us, across Africa, and help us achieve our mission and bring transformation to musculoskeletal healthcare in Africa.  Join us, grow with us,  and make a difference!