WHAT YOU NEED TO KNOW ABOUT SCIATICA AND HOW TO DEAL WITH IT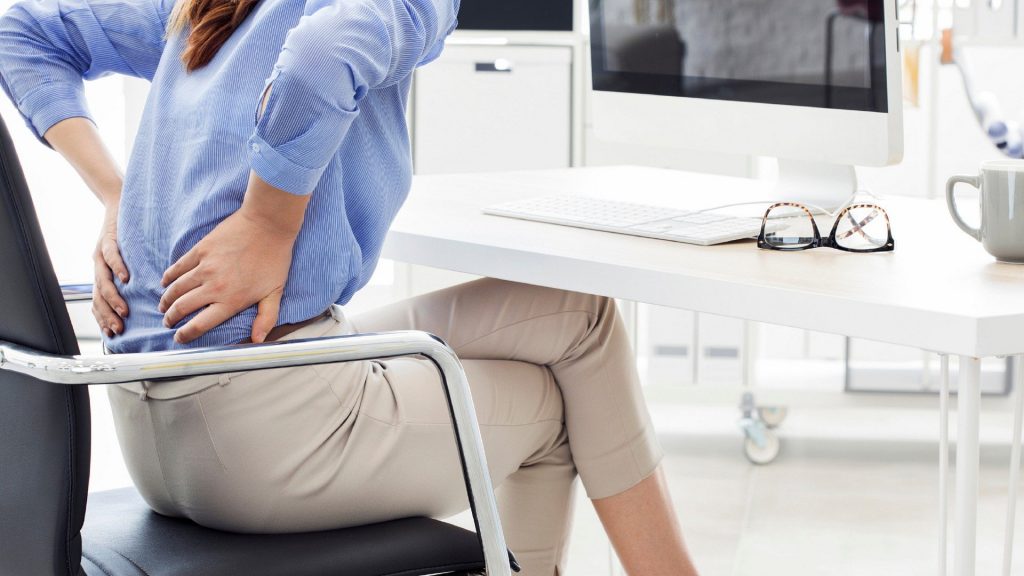 WHAT IS SCIATICA?
Sciatica is a common condition that causes pain in the lower back and leg. It is caused by irritation or inflammation of the sciatic nerve, which runs from the lower spine, through the hip and down the leg. The sciatic nerve controls feeling in the legs, as well as movement in the leg muscles. Sciatica affects people of all ages but is more common among those over 40 years old.
The pain usually starts gradually and builds up over time, often becoming more intense when sitting or standing for long periods of time, walking upstairs, or bending down to pick something up off the floor. Numbness may also be present in the leg and/or foot.
WHAT CAUSES SCIATIC PAIN?
One of the most common causes of sciatica is a herniated disc, also sometimes called a slipped disc or prolapsed disc. In a herniated disc, the soft shell that surrounds the nucleus pulposus (i.e., the jelly portion of the disc) inside a spinal disc rupture. This allows the nucleus pulposus to bulge, consequently leading to compression of nerve roots. Over time, this can lead to persistent back pain, sciatic pain and even numbness in the legs.
Another cause of sciatica is spinal stenosis. This can occur when the spinal canal gets too narrow. The condition often develops with age. It's caused by the progressive degeneration of the spine and it affects the lateral, or side parts of the body, rather than the lower back.
Sciatica can also be caused by piriformis syndrome. The cause of piriformis syndrome is compression of the sciatic nerve due to tightness in the piriformis muscle, which is located behind your gluteal region. When the piriformis muscle compresses the sciatic nerve, there are episodes of pain and tingling along the affected nerve, which can be severe in some cases.
WHAT DOES SCIATICA FEEL LIKE?
The most commonly reported symptoms are pain in the back, butt, and legs. Often, sciatic pain involves one or more of the following:
Pain. The pain is felt in your lower back and radiating down your leg. You may also feel a burning or shooting sensation in your leg, foot, thigh and/or buttock.
Numbness. Sciatica pain and numbness in the back of the leg are frequently found together. When present, a loss of sensation in the lower third of the back along with pain in the buttock or butt area is typically what are felt from that nerve compression. Sometimes tingling and/or weakness may also be present.
One-sided symptoms. Sciatica commonly affects one leg and rarely affects both legs. It can cause a feeling of heaviness in the leg, due to muscle weakness.
Posture induced symptoms. If a person has sciatica, it may likely hurt every time they sit down. It may also hurt when they stand up, if they twist their spine, or if they bend forward. Sometimes. walking may give some relief. However, this is dependent on the structure that is compressing on the nerve.
HOW TO TREAT SCIATICA
If you suffer from sciatica, there are many ways to treat and manage the pain. The relief of your sciatica can be achieved by physiotherapy; physiotherapy improves muscle function and physically increases mobility over the long term. This natural form of non-invasive treatment is aimed at re-establishing movement and enhancing muscle strength, improving joint mobility and flexibility, which restores healthy motion within joints, improves blood supply to affected joints, decreases pain and stiffness and relaxes inflamed muscles.
Ask your physiotherapist what kind of exercise programme is best for you. If your pain is severe, you should contact a doctor or physiotherapist who will examine you and determine the cause of your pain.
We are here to serve you if you a physiotherapist. Visit today at www.capitahealth.com. CapitaHealth, we are a leading telehealth physiotherapy provider in Nigeria and a finalist at Nigerian Healthcare Excellence Awards (Year 2022).